Pioneer Woman Chicken Parmigiana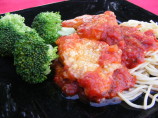 Photo by Lavender Lynn
Prep Time: 20 mins
Total Time: 1 hr 20 mins
Servings: 4-6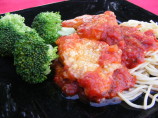 Photo by Lavender Lynn
About This Recipe
"Mama Mia! This is an excellent dish. I love how this woman cooks. This dish is just so wonderful. Can't talk now busy eating this fabulous meal."
Ingredients
1 lb skinless chicken breast ( 4-6 pieces trimmed and pounded flat)

1/2 cup all-purpose flour

salt & pepper ( to taste)

1/2 cup olive oil

2 tablespoons butter

1 medium onion, chopped

4 garlic cloves, minced

3/4 cup white wine ( red is fine too)

3 (14 1/2 ounce) cans crushed tomatoes

2 tablespoons sugar

1/4 cup fresh parsley ( chopped)

1 cup parmesan cheese ( freshly grated)
Directions
Mix flour, salt, and pepper together on a large plate.

Dredge flattened chicken breasts in flour mixture. Set aside.

Heat olive oil and butter together in a large skillet over medium heat. When butter is melted and oil/butter mixture is hot, fry chicken breasts until nice and golden brown on each side, about 2 to 3 minutes per side.

Remove chicken breasts from the skillet and keep warm.

Without cleaning skillet, add onions and garlic and gently stir for 2 minutes. Pour in wine and scrape the bottom of the pan, getting all the flavorful bits off the bottom.

Allow wine to cook down until reduced by half, about 2 minutes.

Pour in crushed tomatoes and stir to combine. Add sugar and more salt and pepper to taste.

Allow to cook for 30 minutes.

If you choose to have pasta, cook linguine, spaghetti, or whatever pasta you like until al dente.

Toward the end of cooking time, add chopped parsley and give sauce a final stir.

Carefully lay chicken breasts on top of the sauce and completely cover them in grated Parmesan.

Place lid on skillet and reduce heat to low. Allow to simmer until cheese is melted and chicken is thoroughly heated. Add more cheese to taste.

Place cooked noodles on a plate and cover with sauce. Place chicken breast on top and sprinkle with more parsley. Or just place the chicken on a plate and dig in!

Serve immediately & enjoy!