Focaccia Flat Bread Homemade (Bread Machine)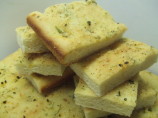 Photo by Vseward (Chef~V)
Prep Time: 5 mins
Total Time: 17 mins
Servings: 12-14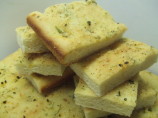 Photo by Vseward (Chef~V)
About This Recipe
"My version of Italian flatbread, brushed with olive oil and flavored with grated Parmesan cheese, galic salt bread heavenly. Cut it into squares and top with Prosciutto Panino rolled in Mozzarella cheese and toasted under the broiler for 5 min.... oh my, this is dangerously good! It is so easy to make. Can't wait to have this with a bowl of soup or top with Pizza topping, or to just dip in garlic olive oil. This comes from a bread machine cookbook with instructions to layer ingredients liquid first. Yummers! :) Family Favorite! (Cooking time does not include dough cycle or rising)"
Ingredients
3/4 cup plus 3 tbsp. water, 90-100 'F

3 cups bread flour

2 tablespoons dry milk

3 1/2 tablespoons sugar

1 teaspoon salt

3 tablespoons butter or 3 tablespoons margarine

2 teaspoons active dry yeast or 1 1/2 teaspoons bread, machine or 1 1/2 teaspoons fast rise yeast

2 tablespoons olive oil

2 tablespoons grated parmesan cheese

3 teaspoons italian seasoning ( grinder)

1 1/4 teaspoons garlic salt ( to taste)
Directions
BREAD DOUGH CYCLE:.

Add lukewarm water to pan.

Add bread flour, dry milk, sugar and salt to pan. Tap pan to settle dry ingredients, then level ingredients, pushing some of the mixture into corners. Place butter into corners of pan.

Make a well in center of dry ingredients; add yeast, lock pan into bread maker.

Program for DOUGH. Start bread maker. When done, remove pan from bread maker. Place dough onto floured surface. Let rest 15 minutes.

Knead dough about 1 minute. Roll dough into a rectangle to fit a jelly roll pan or large cookie sheet, about 15x10 inches. Place on greased pan and press dough evenly into pan forming an edge. Cover and let rise in warm, draft-free place for 20-30 minutes until slightly risen. With handle/end of wooden spoon, make indentations in dough at every inch. Brush dough with olive oil, then sprinkle with Parmesan cheese, Italian Seasoning (Grinder) and garlic salt.

Bake in preheated 400' F oven for 12 minutes or until nicely browned. Cool slightly and cut into squares for serving. Can be served warm or cooled.

Sit back and enjoy the raves ;).