Andy's South-West Chicken Soup (Atkins-Low Carb)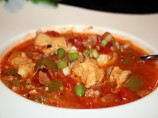 Photo by **Tinkerbell**
Prep Time: 10 mins
Total Time: 55 mins
Servings: 4-6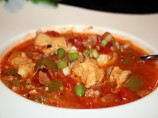 Photo by **Tinkerbell**
About This Recipe
"I came up with this recipe during my first phase of Atkins and I needed a break from straight meat and green beans (God, would I love a piece of pizza right now) Nevertheless, I basically just used what I had available at the time, however, my roommate tried this soup and thought it was great. So, I thought I would share it with the rest of you."
Ingredients
2 lbs chicken breasts

1 cup bell pepper ( chopped)

3 garlic cloves

1 small sweet onion ( chopped)

1 1/2 cups chicken stock

1/4 cup butter

1 chili seasoning mix ( I use McCormick Hot taco seasoning)

1 (14 ounce) cans tomatoes ( canned or chopped or stewed)

1/2 cup green chili ( canned or fresh)
Directions
Cut chicken breast into chunks, sized to your liking (bite-size).

Sauté bell pepper, garlic and onion in butter.

Add chicken to the pan with bell pepper, garlic, onion, and butter. (season to taste) cook chicken just to to the point where it begins to change color (cooked-color).

Preheat crock pot and add chicken stock, tomatoes, green chilies and the remaining ingredients from the pan.

Stir in taco or chili seasoning.

Set crock pot to high for around 45 minutes and reduce heat to low until ready to serve.

Garnish with sharp cheddar and sour cream.

NOTE: If you would like a little thicker more chili like consistency, cook uncovered, and maybe add a small can of tomato paste.

(Options for non-Atkins users).

Beans (should help for a thicker consistency).

Rice.

Garnish with corn chips.