Ricotta, White Chocolate Chip, and Walnut Muffins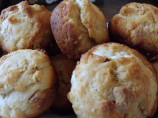 Photo by Darkhunter
Prep Time: 10 mins
Total Time: 35 mins
Servings: 16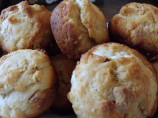 Photo by Darkhunter
About This Recipe
"This produces a very thick batter so hand mixing is best (unless you have a kitchen aid, which I do not). Also the batter is very sticky and I found that my second batch was easier to work with after it stood. The choice is up to you but I will let mine stand next time before filling the muffin cups. These little treasures taste wonderful with a cuppa afternoon coffee."
Ingredients
2 1/2 cups all-purpose flour

2 teaspoons baking powder

1/4 teaspoon salt

3/4 cup white chocolate chips

1/2 cup chopped walnuts

1 cup low-fat ricotta

1/2 cup canola oil

1 egg

1 cup sugar

1 teaspoon vanilla

2 tablespoons water
Directions
Heat oven to 375 degrees. Coat muffin tins with nonstick cooking spray and set aside.

In a small bowl, blend flour, baking powder and salt in a bowl.

In a large bowl, whisk ricotta, canola oil, egg, sugar, vanilla and 2 tablespoons water until blended. Add flour mixture and stir until combined. Add chocolate chips and walnuts to mixture and stir until just combined.

Bake at 375 degrees for 25 minutes or until toothpick inserted in centers comes out clean.