Cranberry Sour Cream Coffee Cake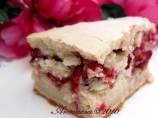 Photo by Annacia
Prep Time: 10 mins
Total Time: 55 mins
Servings: 15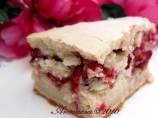 Photo by Annacia
About This Recipe
"This winter holiday season I intend to freeze A LOT OF CRANBERRIES, so that I'll have them available all year long for recipes such as this one that showed up in Taste of Home's Fall Baking Cookbook, 2009!"
Ingredients
FOR THE DOUGH

3/4 cup sour cream

1/4 cup milk

1 cup unsalted butter, softened

1/2 cup granulated sugar

1/2 cup brown sugar, packed

3 eggs

2 teaspoons pure vanilla extract

2 3/4 cups all-purpose flour

1 teaspoon baking powder

1/2 teaspoon baking soda

1/2 teaspoon salt

FOR THE FILLING

3 cups cranberries, thawed, chopped ( fresh or frozen)

3/4 cup granulated sugar

2 tablespoons orange juice

2 teaspoons orange zest, minced

1 teaspoon ground cinnamon

1/2 teaspoon ground cloves
Directions
Preheat the oven to 350 degrees F & grease a 13"x9" baking dish.

In a small bowl, combine sour cream & milk, then set aside.

In a large bowl, cream butter & sugars until light & fluffy.

Add eggs, one at a time, beating well after each addition, then beat in the vanilla.

In another bowl, whisk together the flour, baking powder, baking soda & salt, then add this mixture to the creamed mixture, alternately with the sour cream mixture, then set this batter aside.

In yet another bowl, combine all the filling ingredients & set aside.

Spread 2/3 of the batter into the prepared baking dish, before sprinkling the filling ingredients over that batter. Finally, top it all with the remaining batter.

Bake for 40 to 45 minutes or until a toothpick inserted near the center comes out clean. Cool on a wire rack.