Green (Un-Ripe) Tomato Salsa for Canning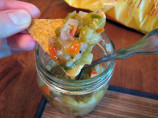 Photo by yogiclarebear
Prep Time: 30 mins
Total Time: 1 hr 30 mins
Yield: 8 pints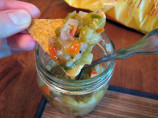 Photo by yogiclarebear
About This Recipe
"Summer heat came late and left a bit early this year...leaving lots of green tomatoes! This "throw together" green tomato salsa was declared "the best salsa I've ever had" by my brother-in-law. Cooking time includes canning process."
Ingredients
5 lbs green tomatoes, chopped small ( as you prefer for salsa)

6 yellow onions, chopped ( 4 cups)

3 jalapenos, chopped with seeds ( 1/2 cup)

4 large red bell peppers, chopped ( 2 cups)

6 garlic cloves, minced

1 cup fresh cilantro, chopped

1 cup lime juice

1/2 cup vinegar

1 tablespoon salt

1/2 tablespoon cumin

1 tablespoon dried oregano leaves

2 teaspoons pepper

1/4 teaspoon cayenne ( optional, to taste)

1 -2 teaspoon sugar
Directions
Combine everything in a large pot, mixing well. Bring to a boil, reduce heat to simmer, and cook for 30-40 minutes, stirring occasionally.

To continue canning, bring salsa to a boil.

Ladle salsa into hot sterile jars, leaving 1/2 inch headspace. Wipe lids and jar edges clean before finger tightening lids and placing them back in the boiling canning pot.

Process (boil) jars for 15 minutes.

Remove carefully and let sit for 24 hours. Check lids for seal, and refrigerate any unsealed jars.