Vegetable & Gravy Pot Roast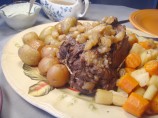 Photo by Lori Mama
Prep Time: 15 mins
Total Time: 4 hrs 15 mins
Serves: 6, Yield: 1 Pot Roast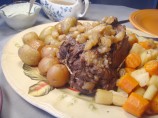 Photo by Lori Mama
About This Recipe
"You'll LOVE this recipe; it's delicious, full of flavor, and melts in your mouth! Enjoy--"
Ingredients
3 1/2 lbs beef roast ( chuck, round, or shoulder)

2 tablespoons olive oil

3 tablespoons Worcestershire sauce

1 teaspoon dried basil, crushed

1/2 cup beef stock

4 garlic cloves, minced

1/2 cup dry red wine

2 lbs baby potatoes, half peeled

4 carrots, peeled and chopped

2 onions, wedges

1/4 cup flour

1/2 teaspoon sugar

1 -2 teaspoon salt and pepper, to taste
Directions
Preheat oven at 325 degrees. (or medium high heat stove).

Trim fat from meat and sprinkle basil, sugar, salt, and pepper on roast.

Brown all sides in olive oil in a 4-6 quart dutch oven.

Add garlic and onions to bottom of pan.

Mix beef stock, red wine, Worcestershire and pour over roast.

Bring to boil, reduce heat and let simmer.

Bake covered for 3 ½ hours.

Add potatoes and carrots. Place roast on top of vegetables.

Return to boil, reduce heat and let simmer.

Bake covered another 30 minutes or more until tender.

Transfer meat and vegetables to platter, reserve juices.

Gravy: combine ½ cup water and flour into pot roast juices on medium heat until thickened, season to taste and serve over roast and vegetables.