Chocolate Cheesecake Brownies for Dummies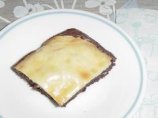 Photo by Karen=^..^=
Prep Time: 10 mins
Total Time: 1 hr
Servings: 9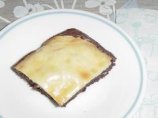 Photo by Karen=^..^=
About This Recipe
"So simple, so easy, so delicious, and you would be a dummy not to make these!"
Ingredients
1 package dark chocolate brownie mix

1 cup white chocolate chips

1 (8 ounce) packages low-fat cream cheese

1 egg

1/4 cup sugar

1 teaspoon lemon juice
Directions
Heat the oven to 350 degrees F.

Prepare the brownie mix according to the directions on the box.

If there are directions for cakelike brownies (as opposed to ooey gooey brownies) go for that one.

Fold the white chocolate chips into the batter.

Spread into a greased 9 x 9 inch pan.

Using an electic mixer, beat the cream cheese, egg, sugar and lemon juice for 1 minute, or until smooth.

Spread the cheese mixture over the brownie mixture.

Bake for 45 to 50 minutes, or until a toothpick poked in the middle comes out clean.

Cool for 5 minutes, then cut into 9 pieces.