Shell Beans and Potato Ragout With Swiss Chard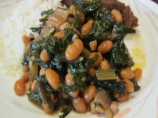 Photo by Rita~
Prep Time: 10 mins
Total Time: 55 mins
Servings: 6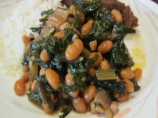 Photo by Rita~
About This Recipe
"A healthy and delicious recipe I found online from the New York Times. YUMMY! A short series on shell bens - their uses and benefits. Sept 21, 2009"
Ingredients
1 1/2 lbs swiss chard (1 large bunch or 2 medium bunches) or 1 1/2 lbs red swiss chard ( 1 large bunch or 2 medium bunches)

salt

2 tablespoons extra virgin olive oil

1/2 medium onion, sliced in half moons across the grain

2 large garlic cloves, minced

1 lb cannellini beans, shell bean such as borlotti and purple runners would work as well, shelled ( about 1 3/4 cups shelled)

1 lb potatoes, preferably fingerlings or 1 lb yukon gold potato, cut in 1-inch pieces

3 1/2-4 cups water

1 bouquet garni ( made with a sprig each thyme and parsley or basil, a bay leaf and a Parmesan rind)

fresh ground pepper

2 tablespoons flat leaf parsley, chopped

1 -2 teaspoon fresh marjoram (optional)

freshly grated parmesan cheese, for serving
Directions
Bring a large pot of water to a boil; Fill a bowl with ice water then stem the chard, setting aside the stems, and wash the leaves thoroughly in two changes of water.

Wash the stems, trim away the ends and dice then set aside.

When the pot of water comes to a boil, salt generously and add the chard leaves; Blanch for one to two minutes, until tender but still bright, and transfer to the bowl of ice water.

Drain, squeeze out excess water and chop coarsely. Set aside.

Heat the olive oil in a large, heavy casserole or Dutch oven over medium heat and add the onion.

Cook, stirring, until it begins to soften, about two minutes, and add the diced chard stems; Cook, stirring often, for about two minutes, until the stems begin to soften, and add the garlic.

Stir together for a minute, and add the beans, potatoes, water (just enough to cover everything) and bouquet garni.;Bring to a simmer.

Add salt to taste. then cover and simmer 40 to 45 minutes, until the beans are tender.

Add the blanched chard, and simmer for another two to three minutes adding pepper, and then taste and adjust salt.

Remove the bouquet garni and stir in the parsley and marjoram, then serve, passing Parmesan at the table for sprinkling.