Porker Pizza With Goat Cheese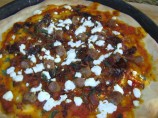 Photo by mary winecoff
Prep Time: 0 mins
Total Time: 20 mins
Servings: 4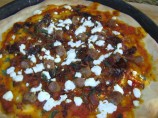 Photo by mary winecoff
About This Recipe
"I have been craving pizza ever since I started my low carb diet... well I've officially given up doing the low carb thing, at least for a while, and I made this to celebrate my new dietary freedom. I used a balsamic vinegar infused with pomegranate... very yummy but I'm sure a normal balsamic would work just fine. I used a homemade pizza crust, so if you're using a pre-made crust you might want to decrease the bake time."
Ingredients
1 medium pizza crust

1/4 cup pizza sauce ( decrease or increase to your own taste)

1 large sweet Italian sausage link, sliced

4 -5 thick slices bacon, diced

1/4 yellow onion, thinly sliced

2 -3 garlic cloves, diced

2 -3 sun-dried tomatoes, diced

1 tablespoon olive oil

1 teaspoon balsamic vinegar

1/4 cup goat cheese, crumbed

chopped fresh herb, such as sage oregano basil (optional)
Directions
Preheat oven to 450°F.

In a pan begin to saute the onion and garlic in olive oil. Add the sun dried tomatoes and balsamic vinegar and continue to cook until onions are soft. Set aside.

In a separate pan cook the sausage and bacon. Remove the sausage and bacon from the pan and lay on paper towels to take care of excess grease.

Spread the pizza sauce on the crust and top evenly with pork. Spread the onion mixture evenly on top of the pork. Sprinkle goat cheese crumbles on top of onion mixture and if you're using fresh herbs sprinkle on top of cheese. Bake for 15-20 minutes or until your crust is done (if using homemade) or until top begins to brown.