Cinnamon-Raisin Oatmeal Scones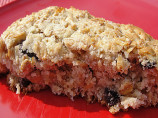 Photo by diner524
Prep Time: 10 mins
Total Time: 30 mins
Serves: 8, Yield: 8 scones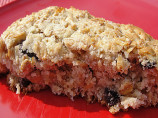 Photo by diner524
About This Recipe
"I was looking for a scone with a little more healthy to it - more than just white flour... and into my inbox came this recipe from Cooks Illustrated - delish!! You can sub half & half for the heavy cream."
Ingredients
354.88 ml rolled oats (4 1/2 ounces) or 354.88 ml quick oats

59.14 ml milk

59.14 ml heavy cream

1 large egg

354.88 ml all-purpose flour ( 7 1/2 ounces)

1.23 ml ground cinnamon

78.07 ml granulated sugar ( 2 1/4 ounces)

9.85 ml baking powder

2.46 ml table salt

147.89 ml unsalted butter, cold, cut into 1/2-inch cubes

118.29 ml raisins

14.79 ml sugar, for sprinkling
Directions
Adjust oven rack to middle position; heat oven to 375 degrees. Spread oats evenly on baking sheet and toast in oven until fragrant and lightly browned, 7 to 9 minutes; cool on wire rack. Increase oven temperature to 450 degrees. Line second baking sheet with parchment paper. When oats are cooled, measure out 2 tablespoons and set aside.

Whisk milk, cream, and egg in large measuring cup until incorporated; remove 1 tablespoon to small bowl and reserve for glazing.

Pulse flour, cinnamon, 1/3 cup sugar, baking powder, and salt in food processor until combined, about four 1-second pulses. Scatter cold butter evenly over dry ingredients and pulse until mixture resembles coarse cornmeal, twelve to fourteen 1-second pulses. Transfer mixture to medium bowl; stir in cooled oats and raisins. Using rubber spatula, fold in liquid ingredients until large clumps form. Mix dough by hand in bowl until dough forms cohesive mass.

Dust work surface with half of reserved oats, turn dough out onto work surface, and dust top with remaining oats. Gently pat into 7-inch circle about 1 inch thick. Using bench scraper or chef's knife, cut dough into 8 wedges and set on parchment-lined baking sheet, spacing them about 2 inches apart. Brush surfaces with reserved egg mixture and sprinkle with 1 tablespoon sugar. Bake until golden brown, 12 to 14 minutes; cool scones on baking sheet on wire rack 5 minutes, then remove scones to cooling rack and cool to room temperature, about 30 minutes. Serve.