Garbage/Trash Plate Hot Sauce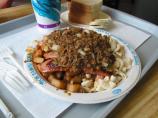 Photo by ~la petite chef~
Prep Time: 45 mins
Total Time: 45 mins
Servings: 20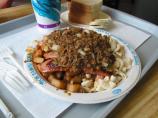 Photo by ~la petite chef~
About This Recipe
"From Upstate NY, The home of the garbage/trash plate. This Hot sauce is incredible!!! I make a ton of it and keep it warm in the crock while people serve themselves."
Ingredients
1 medium onion, chopped

1 garlic clove, minced

1 tablespoon oil

1 lb triple-ground beef

1 cup water

1 (6 ounce) cans tomato paste

1/2 tablespoon brown sugar

1 teaspoon ground black pepper

3/4 teaspoon cayenne pepper

1 teaspoon chili powder

1 1/2 teaspoons paprika

1/2 teaspoon ground cumin

1/2 teaspoon allspice

1/4 teaspoon cinnamon

1/2 teaspoon powdered clove

1 teaspoon salt ( to taste)
Directions
In a large skillet, fry chopped onion and garlic in oil until soft.

Add meat, stirring constantly with fork to keep it's texture fine.

Once the meat browns, add water and tomato paste. Simmer 10 minutes.

Add sugar and spices. Simmer 30 minutes, adding water, if necessary to keep it moist but not soupy. Alternatively, you may use the griddle scrapings from cooking the patties to make this the Authentic Nick Tahou way.

Enjoy a taste of Rochester, NY!