Mimi's American Chop Suey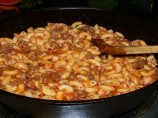 Photo by Mimi in Maine
Prep Time: 15 mins
Total Time: 20 mins
Servings: 4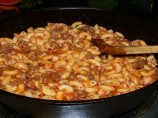 Photo by Mimi in Maine
About This Recipe
"When I was little my mom made this recipe a lot. It was during World War II and it was very inexpensive to prepare. I loved it. I guess you would call it a comfort food for me as I was always so happy when I asked, "What's for supper" and Ma answered, "Chop Suey". She never called it "American Chop Suey" except on her recipe card. It was always "Chop Suey". I can't believe that I haven't posted this as I still make it often. I guess I figured it wasn't fancy enough and everyone knew about it, but because I don't want to lose it, I am posting it now. You will have most the ingredients in your pantry and freezer--there are only five plus salt and pepper."
Ingredients
1 1/2 cups dry elbow macaroni

3/4-1 lb hamburger

1/2 medium onion ( chopped)

1 (8 ounce) cans tomato sauce

1 (10 3/4 ounce) cans tomato soup

salt and pepper ( to taste)
Directions
Cook the macaroni till done, but not overdone.

Heat a skillet and fry hamburg and onion will done.

Add the tomato sauce and tomato soup; mix well.

Add the marcaroni.

Heat and serve.