2bleu's Vegetable Barley Soup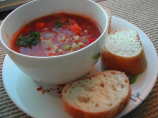 Photo by Kumquat the Cat's friend
Prep Time: 15 mins
Total Time: 1 hr 30 mins
Servings: 8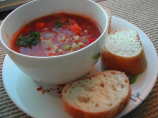 Photo by Kumquat the Cat's friend
About This Recipe
"This is our vegan version of 2bleu's Beef Barley Soup (Or Chicken Barley Soup). Barley is a wonderfully versatile cereal grain with a rich nutlike flavor and an appealing chewy, pasta-like consistency. When the weather's cold, a big pot of soup simmering on the stove warms the heart as well as the hearth. In addition to its robust flavor, it's a very good source of fiber. If you can't find barley in your grocery store, you can purchase some of excellent quality pearl barley at www.nutsonline.com"
Ingredients
8 cups vegetable broth ( or stock)

2 garlic cloves, minced

1 (8 ounce) cans tomato sauce

1 (14 1/2 ounce) cans diced tomatoes

1 cup pearl barley

1 teaspoon dried parsley

1/2 teaspoon basil

1/4 teaspoon crushed red pepper flakes (optional)

1 bay leaf

3 carrots, sliced

4 stalks celery, chopped

1 onion, chopped into large pieces

6 ounces fresh mushrooms, sliced

salt and black pepper, to taste
Directions
Preparing Barley: Like all grains, before cooking barley, rinse it thoroughly under running water and then remove any dirt or debris that you may find.

In a large dutch oven over medium heat, Add all ingredients except salt & black pepper. Bring to a boil, reduce heat and simmer for 1-1 1/2 hours, stirring occasionally until barley and carrots are tender and fully cooked.

Season to taste with salt & black pepper and serve. NOTES: Add more water if soup becomes too thick upon standing. Pearl barley takes a minimum of 1 hour to cook, whereas hulled barley takes 1.5 hours or more.