Make Ahead Tenderloin Sandwiches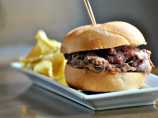 Photo by Andi of Longmeadow Farm
Prep Time: 10 mins
Total Time: 2 hrs 10 mins
Serves: 8, Yield: 10 sandwiches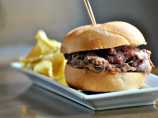 Photo by Andi of Longmeadow Farm
About This Recipe
"Buy beef tenderloin on sale, make these mini buns of gold and freeze...if they last that long. Not for those on low fat diets...will be a huge hit with teens and hubbies craving beef! Recipe comes from a phenomonal cook, my husband's cousin Katie who made these at a family gathering. I couldn't leave without the recipe. Thanks so much Katie!"
Ingredients
Basting mixture

1/2 cup butter

1 teaspoon garlic powder

1 teaspoon dry mustard

Bun spread

1/2 lb butter

1 1/2 teaspoons dried parsley

1/2 teaspoon garlic powder

1 teaspoon thyme

1 teaspoon celery salt
Directions
Bake tenderloin in 200 degree oven for 2 hours, turning & basting with basting mixture every 20 minutes. Will cook to medium rare - 145 degrees.

While roasting, slice small silver dollar rolls and spread bun spread mixture on them.

When meat is done, let rest at least a half an hour. I've let it sit overnight. Using an electric knife, slice meat into thin slices, piling several slices onto each bun. Put buns on a jelly roll pan lined with parchment paper. Cover with foil and put in fridge until ready to cook. Put a damp towel over buns. Remove foil before you do this and then bake in 350 degree oven for 10-15 minutes.

Serve to a party or any kind of gathering and step back for the stampede!

If there are any left, freeze individually for quick snacks or small meals. FANTASTIC!

Perfect for Sunday afternoons watching football, Friday nights when the teenagers invade my house looking for something besides doritos (they know that I will feed them well!), or weeknights when we are crazy driving from one activity to another and need something substantial -- not hamburger helper or easy mac.