Roasted Salmon With Peperonata and Balsamic Syrup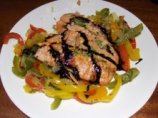 Photo by southshore cook
Prep Time: 45 mins
Total Time: 53 mins
Servings: 4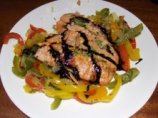 Photo by southshore cook
About This Recipe
"My brother made this for us the other night after finding this recipe in April 2009 Coastal Living magazine. The original recipe used Artic Char but we had a sockeye salmon that needed cooking. We have lived on the west coast, and have been eating salmon, all of our lives and this is one of the best recipes we have had. Although it looks long and complicated it really isn't and believe me the results are more than worth it. Preperation time includes the chopping of peppers and onions but is worth every knife stroke. The chopping and balsamic syrup reduction could all be done ahead. We used two large fillets which should have been enough for 8 people but the 4 of us ate it all!"
Ingredients
1/2 cup coarsely chopped fresh Italian parsley

2 teaspoons coarsely chopped fresh rosemary

2 garlic cloves, coarsely chopped

1 1/2 teaspoons kosher salt, divided

1/2 cup extra virgin olive oil

1/2 fennel seed

1 3/4 lbs bell peppers, thinly sliced ( combine all the colors you can)

1 sweet onion, halved and thinly sliced

1 teaspoon fresh coarse ground black pepper, divided

1/2 cup balsamic vinegar ( use a good quality, it does make a difference)

2 teaspoons sugar

4 (6 ounce) salmon fillets, 1/2 to 1 inch thick with skin on
Directions
Combine first 3 ingredients and 1/2 tsp of kosher salt in food processor; pulse until parsley is finely chopped. With processor running, gradually add oil through food chute in a slow, steady stream. Pour herb oil through fine-mesh strainer, discarding solids. (We omitted this step as we wanted all of the goodness!).

Heat 2 tbsps herb oil and fennel seed in a large, deep skillet or Dutch oven over medium heat. Add bell pepper, onion, 3/4 tsp kosher salt and 1/2 tsp black pepper. Cook, stirring often, 25 to 30 minutes (reducing heat if needed) or until vegetables are tender.

Bring balsamic vinegar and sugar to a boil in a saucepan. Boil gently 3 to 5 minutes or until syrupy and reduced to 3 tbsps. (Watch carefully during last minute as syrup forms quickly.).

Place fillets on an oiled baking sheet. Sprinkle with remaining 1/4 tsp kosher salt and 1/2 tsp black pepper. Drizzle 2 tbsps herb oil evenly on fillets. Roast in center of 425 degree oven 8 to 10 minutes or until fish flakes with a fork. Spoon peperonata vegetables onto 4 plates. Top with fillets. Drizzle remaining herb oil and 1/2 to 1 tsp balsamic syrup over vegetables and fish on each plate.