Cheesy Tuna Tortilla Melts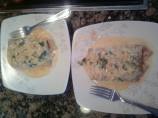 Photo by Ellectra500
Prep Time: 10 mins
Total Time: 10 mins
Servings: 4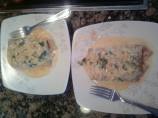 Photo by Ellectra500
About This Recipe
"Canned tuna tastes sensational wrapped in tortillas with salsa and cheese, Cover with chili sauce and bake. Another easy and delicious dinner is ready!!"
Ingredients
FILLING

2 (170 g) cans clover leaf flaked solid white tuna packed in water, drained

3/4 cup salsa

1/2 cup monterey jack cheese or 1/2 cup mozzarella cheese, grated

1/4 cup cilantro, chopped (optional)

SAUCE

3 tablespoons vegetable oil

1 onion, chopped

2 garlic cloves, chopped

1 tablespoon chili powder

1 teaspoon smoked paprika (optional)

1/4 teaspoon red pepper flakes (optional)

1 tablespoon all-purpose flour

1 (370 ml) cans Carnation Evaporated Milk ( regular, 2% or fat-free)

1/4 cup monterey jack cheese or 1/4 cup mozzarella cheese, grated

GARNISH
Directions
Preheat oven to 375°F Grease an 8x8-inch baking dish.

Arrange tortillas on a flat surface.

FILLING:.

Combine ingredients for filling in a bowl. Place 1/2 cup filling in the center of each tortilla. Fold top and bottom of tortilla over filling, Roll up tortilla from open end and place in prepared dish, seam side down.

SAUCE:.

Heat oil in large saucepan on medium heat. Add onion and garlic and gently cook for 2-3 minutes until tender., Add next 4 ingredients. Cook for 3 minutes, stirring often. Add evaporated milk, bring to a boil, lower heat and cook until thickened, 3-5 minutes. Pour over tortillas,. Sprinkle with remaining cheese.

Bake in preheated oven 20-25 minutes, until bubbling. Remove and sprinkle with cilantro and green onions. Let sit 5 minutes before serving.

TIPS: Use part Skim Mozzarella cheese as a healthier option,.

Sauce can be made a day ahead and refrigerated until ready to use.

Serve with store bought guacomole and your favorite veggies!