Garlic and Mustard Chicken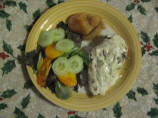 Photo by Chabear01
Prep Time: 10 mins
Total Time: 40 mins
Servings: 4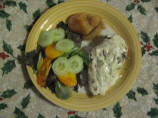 Photo by Chabear01
About This Recipe
"This dish is healthy and delicious and so easy to make. I like to eat it with Amazing Buttermilk Garlic Mashed Potatoes and a mixed salad. Instead of creme fraiche you could use sour cream. And instead of 8 chicken thighs you could use 4 chicken breast halves. You can cook it on the grill or in the oven. I had a hard time listing cooking times, so just make sure the chicken is done and enjoy :)"
Ingredients
8 chicken thighs

8 garlic cloves, minced

1/2 medium onion, very finely chopped

2 teaspoons paprika

2 tablespoons dried tarragon

6 tablespoons Dijon mustard

3 tablespoons olive oil

2 tablespoons lemon juice

3 tablespoons creme fraiche

salt, pepper

2 tablespoons djon mustard

2 teaspoons dried tarragon
Directions
Season the chicken pieces with salt and pepper and place in a dish or zip-top bag.

Mix the next seven ingredients together in a small bowl and add to the chicken.

Turn chicken to coat, cover and refrigerate over night.

Remove chicken from marinade and either put on barbecue for 10-15 minutes per side or in an 350°F oven for 35-40 minutes. But cooking times will vary, so make sure they're done.

Mix the creme fraiche with the other 2Tbs dijon mustard, terragon and salt and pepper and spread on chicken just before serving.