Super Basil Pesto (Healthy Version)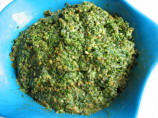 Photo by flower7
Prep Time: 10 mins
Total Time: 15 mins
Serves: 4, Yield: 1 Cup Pesto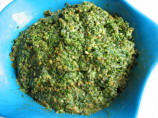 Photo by flower7
About This Recipe
"Using less oil makes this recipe a little easier on the waist line, but doesn't skimp out on big taste and comes with a twist. I created this using several recipes I had seen online. Beware this is garlicky for those who don't like garlic. Cooking Time= Combining Ingredients."
Ingredients
2 cups fresh basil, lightly packed ( the super part is to use more than one variety of basil, I used 3, Pesto Basil, Red Opal Basil and C)

1/4 cup pine nuts, toasted ( or if you want be even healthier Walnuts)

2 -4 garlic cloves, depending on size and how much you like garlic ( or more, I used like 5 pretty small gloves in mine)

3 tablespoons extra virgin olive oil

2 tablespoons water ( Or Broth, I use veggie broth for mine)

1/4 cup parmigiano-reggiano cheese, grated

1/2 teaspoon salt

1/2 teaspoon pepper

1 -2 pinch crushed red pepper flakes ( my little twist)
Directions
Put all ingredients, but the pepper flakes in the food processor.

Pulse and blend.

Blend until everything has been mixed, the pesto should be thick (to the point of being spreadable) and not runny. Trust me you want it this way, it coats the noodles way better.

Put the pesto into a bowl and mix in the pepper flakes.

You are now ready to mix it into your pasta or put it on your pizza.

Note: The pesto by itself is a bit salty, but don't worry once on your pasta or pizza it is just right.