Delicious Moo Goo Gai Pan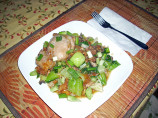 Photo by Chef Joey Z.
Prep Time: 25 mins
Total Time: 41 mins
Servings: 4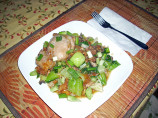 Photo by Chef Joey Z.
About This Recipe
"I love Chinese food. But I don't eat it unless I make it myself. I worry about salt or MSG being put into the food. I have asked if MSG is in the food and have been told no, but my head told me otherwise. This is a recipe I've tweaked so it suits my taste."
Ingredients
6 chicken thighs ( skinned, boned and sliced)

salt and pepper ( to taste)

2 large garlic cloves ( pressed)

2 tablespoons arrowroot

5 tablespoons coconut oil

8 ounces mushrooms ( fresh)

4 lbs bok choy ( chopped)

2 tablespoons sugar

4 tablespoons tamari soy sauce

6 green onions ( chopped)
Directions
Put the arrowroot, garlic, salt and pepper in a bowl. Toss the chicken thighs in this mixture. Set aside.

Heat 3 tablespoons of the coconut oil in a large skillet and add the mushrooms, bok choy and sugar. Saute for 2 minutes. Cover and cook for about 5 more minutes. Remove from the skillet.

Add the 2 remaining tbsps. of coconut oil into the skillet on high heat. Once good and hot add the chicken thighs and saute for 2 minutes. Add the tamari sauce, mix well.

Cover and cook for an additional 6 minutes or until the thighs are completely cooked through.

Add the chicken to the bok choy and add the green onions. Stir fry this for about 1 minute. Serve hot over rice.

Bon Appetit!