Larb (Laab) Thai Meat Salad With Mint and Lemongrass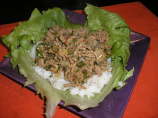 Photo by Queen Dana
Prep Time: 15 mins
Total Time: 30 mins
Servings: 4-6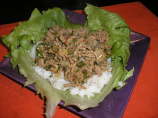 Photo by Queen Dana
About This Recipe
"I first had this dish when i lived in Port au Prince Haiti, a thai restaurant served it..i loved it and have kept looking for one that has the right spicing. It is a wonderful scented tasting heaven. Most of them have to few flavors but it needs enough of each herb. Of course people can change the amounts to their taste. Serve over rice or roll up in rice paper or lettuce rolls."
Ingredients
2/3 cup fresh lime juice

1/3 cup fish sauce ( found in Asian markets or in the Ethnic aisle of most grocers)

1 tablespoon sugar

2 teaspoons thai roasted chili paste

3/4 cup canned low sodium chicken broth

1 1/2 lbs ground chicken or 1 1/2 lbs pork

1 cup thinly sliced green onion

3/4 cup thinly sliced shallot

3 tablespoons minced fresh lemongrass ( found in Asian Markets)

1 tablespoon thinly sliced Thai red chili peppers or 1 tablespoon serrano chili

1/2 cup chopped fresh cilantro leaves

1/3 cup chopped fresh mint leaves
Directions
Combine the first four ingredients in a medium bowl. Save this sauce for later.

Simmer the broth in heavy large skillet over medium heat. Add the ground chicken. Simmer until cooked through, breaking up any clumps of meat with a spoon, about 8 minutes. Add green onions, shallots, lemongrass and chillies. Stir until vegetables are tender and most of liquid has evaporated, about 4 minutes. Remove from heat. Stir in sauce, cilantro and mint.

You can serve this salad as is with butter lettuce or use it as a filling for your fresh rolls.