Cheesy Chicken & Veggie Mac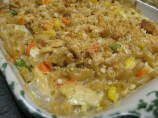 Photo by MsSally
Prep Time: 20 mins
Total Time: 1 hr
Serves: 4, Yield: 1 dish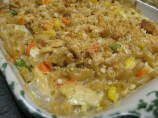 Photo by MsSally
About This Recipe
"This is from Kraft Foods for the most part -- I have altered it quite a bit -- the original called for boxed mac-n-cheese and while both DH love the boxed dinner stuff, we love homemade more so assuming I have time, I make it this way and sometimes when I am busy I sub the Kraft dinner instead. I usually use broccoli and cauliflower for my veggies since that is what we like. Sometimes I use peas and we like that just as much! Also, the cayenne is not that much for us we like spicy -- if you don't cut it down or leave it out! :) Also, at the bottom of the directions, I will put my method for cooking chicken for recipes like this -- easy and good! Cook time for chicken is not included in prep time."
Ingredients
1/2 lb boneless skinless chicken breast ( cooked and shredded)

2 1/2 cups elbow macaroni, uncooked

1 (10 ounce) bags frozen vegetables

1 cup milk

16 ounces processed cheese, cubed ( velveeta)

1/4 cup butter

1/4 teaspoon cayenne pepper

1/8 teaspoon garlic powder

salt, to taste

pepper, to taste
Directions
In a large pot, cook elbow noodles according to the package directions, and add frozen veggies during the last 5 minutes of cooking. When done cooking, drain noodle and veggie mixture.

Return noodles and veggies to pot, add chicken and, over medium heat, stir in cheese, milk, butter and spices until creamy and everything is warmed through.

Dish directly onto your plate and enjoy!

HOW I COOK MY CHICKEN:

Depending on how much chicken I have to cook, I use a 2:1 ratio of water to chicken broth.

I add spices to the water/chicken broth depending on what dish. For example, I use cumin and cayenne for Mexican, and I use Italian seasoning, fresh ground black pepper and a bit of olive oil for Italian dishes. For this dish I just use the chicken broth, a bit of salt and small splash of worsteshire sauce.

Bring the water/broth/spices mix to a rolling boil. Add chicken breast to pot, bring back to a boil and boil for 5 minutes. Turn heat down and simmer for ten minutes. Then take off heat completely and let sit in hot water for 15-20 minutes.

Take chicken out and let cool until you can handle it.

Shred or cube the chicken.

Add to the dish it was intended for!

NOTE: I should probably note, this works very well for medium sized BONELESS SKINLESS breasts -- if using large or bone in pieces, it will probably take longer. Just check frequently.