Ataif / Atayif Bil Ishta -- Arab Pancakes Filled With Cream.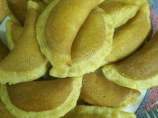 Photo by jaenissa
Prep Time: 3 hrs
Total Time: 3 hrs 5 mins
Yield: 25-35 ataif approx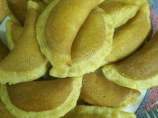 Photo by jaenissa
About This Recipe
"Ataif / Atayif are famous throughout the Arab world & are eaten most often during Ramadan. They are a little fiddly & time consuming to make but are certainly worth it! This recipe is an old one but very similar to the version Arabic Bites blog : http://arabicbites.blogspot.com/2007/06/ataif-bil-ashta.html - take a look at the step by step pictures :)"
Ingredients
For the dough

2 1/4 cups plain flour

6 g fast action dried yeast

1 1/2 teaspoons sugar

1 1/2 cups semi skim milk

1 1/2 cups water

For the filling (ishta)

2 cups semi skim milk

7 1/2 tablespoons cornflour

1/4 cup granulated sugar

3 tablespoons double cream, stiffly whipped

2 tablespoons rose water

1 teaspoon vanilla essence

1 cup chopped pistachios
Directions
To make the filling:.

Mix corn flour gradually with milk and sugar then bring it to boil in a medium sized, heavy bottomed pan.

Stir continually until the mixture thickens, add the remaining ingredients & remove from heat. Spoon mixture into a bowl & refrigerate until cold.

To make the dough:.

Mix all the ingredients and allow to sit for 30-40 minutes.

Ladle approximately 2 tablespoons of the mixture at a time onto a lightly greased, hot frying pan / skillet & cook until full of bubbles - only cook ONE side.

After cooking all of the pancakes, let them cool a little.

To assemble, gently fold in half & pinch the bottom half edge together - so that you have an opening to place the cream but the rest is sealed.

Using a piping bag, fill each pancake with the cooled cream (ishta), before dipping the open ends in the chopped pistachios.