A Cold Summer Soup of Beets and Pimento Pepper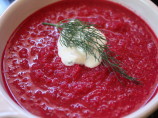 Photo by Leggy Peggy
Prep Time: 10 mins
Total Time: 10 mins
Servings: 2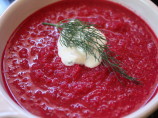 Photo by Leggy Peggy
About This Recipe
"This is a wickedly-good concoction � a soup that�s perfect for summer! The colour is so beautiful � a deep, rich vermillion - and with a drizzle or dollop of dill-infused crème fraiche, it�s nearly too pretty to eat. Fortunately, the taste lives up to the stunning visual!"
Ingredients
1/2 lb cooked beets ( 2-3 beets, depending on their size)

1 pimento pepper ( roasted, from a jar)

1 green onion ( all of the white and 2 inches of the crisp green)

1/2 garlic clove

3/4 cup buttermilk

1/2 cup water

1/2 tablespoon red wine vinegar

1/2 teaspoon salt

1/8 teaspoon pepper

Creme Fraiche Drizzle

3 tablespoons creme fraiche or 3 tablespoons Greek yogurt

1 1/2 teaspoons finely-minced fresh dill

2 sprigs fresh dill ( for garnish)
Directions
To make soup: Put all the soup ingredients in a blender. Process for 45-seconds to 1 minute, or until you have a completely smooth puree. Taste and adjust seasoning. Empty into a food-safe container and refrigerate for at least 2 hours to marry flavours. (Can be made up to 2 days ahead).

To make Crème Fraiche Drizzle: Combine crème fraiche with finely-minced fresh dill. Refrigerate until ready to use. (Can be made up to 2 days ahead).

To serve: Serve soup in pretty white bowls, if you have them, as the colour is so amazing. Drizzle with the crème fraiche and top each with a fresh sprig of dill.