Malay Spiced Chicken Stir-Fry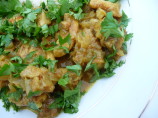 Photo by Tea Jenny
Prep Time: 10 mins
Total Time: 35 mins
Servings: 4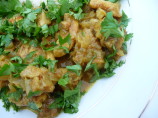 Photo by Tea Jenny
About This Recipe
"You will need a wok for this recipe."
Ingredients
Spice Mixture

1 teaspoon ground cumin

1 teaspoon ground nutmeg

1 teaspoon turmeric

1/2 teaspoon ground cinnamon

1/4 teaspoon ground red pepper

1/4 teaspoon ground allspice or 1/4 teaspoon ground cloves

Remaining Ingredients

3 tablespoons canola oil

2 medium onions, chopped

4 garlic cloves, chopped

3/4 inch fresh ginger, peeled & chopped

1/2 lemon peel, grated

1 lb boneless skinless chicken breast, cut into strips

2/3 cup water

2 tablespoons distilled white vinegar

1 tablespoon sugar

1/2 teaspoon salt

2 -3 cups hot cooked rice
Directions
Combine all the ingredients for the spice mixture in a small bowl.

Heat the wok on medium until warm. Add the spice mixture, cook until lightly toasted & fragrant, stirring frequently.

Return spice mixture back the the bowl then turn the heat on high. Drizzle the oil in a wok & heat for 30 seconds.

Mix in the vegetables & lemon peel, stir-fry for 5 minutes or until slightly browned. Add in the chicken & spice mixture continue to fry until the chicken is no longer pink.

Stir in the water, vinegar, sugar, & salt then bring to a boil. Simmer until half the liquid evaporates & the sauce thickens, stir frequently.

Spoon the stir-fry mixture over hot rice & serve immediately.