Vegetarian Zucchini & Cucumber Low Carb/Calorie Lasagna for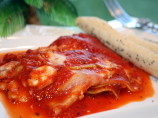 Photo by **Tinkerbell**
Prep Time: 15 mins
Total Time: 45 mins
Serves: 1, Yield: 1 lasagna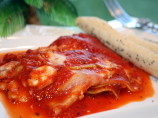 Photo by **Tinkerbell**
About This Recipe
"This isn't exactly like a lasagna since there aren't any pasta noodles. Instead of the pasta, there are layers of zucchini and cucumber. I accidently peeled a cucumber the first time I tried making a zucchini lasagna and ended up with this which tasted pretty good to me. You can make the whole thing out of just zucchini if you want. I use Fat Free Organic Spaghetti Sauce with Mushrooms from Trader Joe's."
Directions
Peel zucchini and cucumber with a vegetable peeler to get long wide strips

Layer some of the sauce in a mini loaf pan.

Now alternate layers of zucchini/sauce/cucumber/sauce.

At one point slice the mushrooms and chop the garlic and add it to one layer.

On the second to last layer, add the parmesan cheese

Finish with the last of the sauce.

Bake at 325 degrees for 30 minutes.