Black Bean-Brown Rice Burgers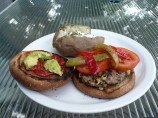 Photo by Hannah Verrinder
Prep Time: 35 mins
Total Time: 40 mins
Serves: 6, Yield: 6 patties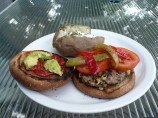 Photo by Hannah Verrinder
About This Recipe
"These burgers make up a complete vegetarian protein, and are both delicious and low-fat."
Ingredients
118.29 ml uncooked brown rice

1 (425.24 g) can black beans, drained and rinsed

1 small onion, chopped ( white or yellow)

1 garlic clove, minced

236.59 ml frozen corn

4.92 ml salt

cayenne pepper ( to taste)

1.62 ml chili powder

1 egg

78.07 ml breadcrumbs ( preferably seasoned)
Directions
In a small pot, combine rice and 1 cup water; bring to a boil, and then turn down to medium heat and cook 20 minutes.In a saucepan, heat a little oil over medium heat and saute the onion and garlic about 5 minutes, until the onion is translucent and soft.

Add the corn and spices and cook until the corn is defrosted, another 5 minutes.

In a medium bowl, mash the drained beans with a fork or your fingers.

Add the rice, corn, and onion; combine, mashing it with your fork as you go. Taste and adjust the spices now, because once you put the egg in you could risk salmonella.

Add the egg and mix in well.

Add the breadcrumbs.

Form into patties by patting the desired amount of mixtured into a flat round. (I used a giant cookie scoop to make sure all the patties were the same size, but you can just divide the mixture into six sections).

Cook about 2 minutes on each side (if you can't flip the patty without breaking it, it's probably not finished cooking).