Tomato Sweet Potato Bisque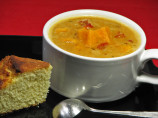 Photo by Kerfuffle-Upon-Wincle
Prep Time: 20 mins
Total Time: 40 mins
Serves: 9, Yield: 1 cup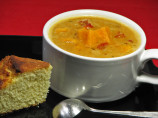 Photo by Kerfuffle-Upon-Wincle
About This Recipe
"From One Pot Meals for People with Diabetes by Ruth Glick & Nancy Baggett. "This hearty, very savory vegetable bisque is quickly pureed in a food processor. It is enriched with a surprising, but tempting ingredient--peanut butter.""
Ingredients
1 large onion, chopped

1 tablespoon olive oil

3 1/2 cups chicken broth

4 1/2 cups sweet potatoes, peeled and cubed ( 1/3 inch)

1 tablespoon fresh gingerroot, peeled and minced

1 teaspoon dried thyme leaves

1 teaspoon ground allspice

1/8-1/4 teaspoon hot red pepper flakes ( to taste)

1 (28 ounce) cans crushed tomatoes

1/3 cup smooth peanut butter

salt and black pepper
Directions
In a 4-qt saucepan or similar size soup pot, combine the onion and oil. Cook over med-high heat, stirring frequently, 3-4 minutes, until onion is soft and beginning to brown.

Stir in the broth, sweet potatoes, ginger root, thyme, allspice, and crushed red pepper. Bring to a boil over high heat. Reduce the heat; simmer, uncovered, stirring occasionally, until the sweet potatoes are just tender, 7-8 minutes.

Scoop up 3 1/2 cup vegetables, then 1 cup broth from pan and place in a food processor. Process until completely pureed and smooth. Return the pureed mixture to the saucepan.

Combine about 2/3 of the canned tomatoes and the peanut butter in the processor. Process until well blended. Return the pureed mixture, then the remaining tomatoes, to the saucepan.

Bring the mixture to a simmer. Cook 2-3 minute longer, until the bisque is piping hot and the flavors are blended. Taste and add salt and pepper, if desired.