Joe's Teriyaki Pork and Broccoli Stir-Fry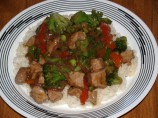 Photo by Smokin' Joe of Wixom
Prep Time: 30 mins
Total Time: 50 mins
Servings: 6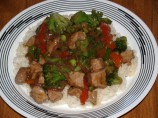 Photo by Smokin' Joe of Wixom
About This Recipe
"Here's a stir-fry that's very colorful and a little sweeter than most (but not overly sweet). It's a compilation of at least three different stir-fry's and even my wife liked it (she's not real keen on stir-fry's). I hope you like it too."
Ingredients
1/2 lb pork, boneless

10 3/4 ounces chicken broth ( 1 can)

1 tablespoon soy sauce

2 tablespoons Burgundy wine

2 tablespoons brown sugar

2 tablespoons cornstarch

2 teaspoons ground ginger

1/8 teaspoon crushed red pepper flakes

1 1/2 cups instant rice

1 1/2 cups water

1 small red onion, sliced

1 small red bell pepper, sliced in strips

1 tablespoon garlic, minced

10 ounces frozen broccoli cuts

3 green onions, chopped

2 tablespoons cooking oil
Directions
Partially freeze meat. Cut the meat into bite-sized pieces. Set aside.

For sauce, stir together chicken broth, soy sauce, red wine, brown sugar, ginger, cornstarch and crushed red pepper. Set aside.

Heat the water to boiling, add the rice, cover and remove from the heat.

Add 1 tbs oil to a hot wok or large skillet, and stir-fry the red onion, red pepper, and garlic until the onion is transparent, about 3 minutes.

Move the vegetables to the outside of the wok, and add 1 tbs oil and the pork to the center and stir-fry until no longer pink.

Add the broccoli to the wok and mix in with the meat and cooked vegetables. Cook for 2 minutes.

Pour the sauce into the wok and cook until the sauce thickens. Add the green onions and cook for 1 minute more.

Spoon the stir-fry over the rice and enjoy!