Fresh Fig and Ginger Chutney from the Auberge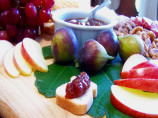 Photo by Rita~
Prep Time: 20 mins
Total Time: 1 hr 20 mins
Yield: 5 35g Jars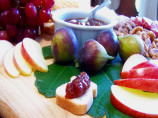 Photo by Rita~
About This Recipe
"When my two fig trees are in season, I struggle to cope with the amount of fruit they produce..........a rather nice problem I have to admit! We eat figs fresh with nearly every meal; I make jams, conserves and also bottle the fruit in liquor. However, this is one of my favourite ways of using some of my fresh figs, and this chutney is just amazing when served with the cheese board or with cold meats and charcuterie. Ginger has a natural affinity with fresh figs and gives this chutney an extra layer of flavour. This chutney does not keep as long as some other fruit chutneys, but that never seems to be a problem, as we eat most of it quite quickly and I always have numerous requests from family and friends for a pot or two when I make it! This intense chutney really captures the fruit's rich sweetness perfectly and is capable of turning a simple toasted sandwich into something rather special.......it's great with all types of cheese."
Ingredients
850 g fresh figs, chopped

400 g dried figs, chopped

3 large red onions, finely chopped

3 medium bramley apples

40 g fresh gingerroot, cut into fine matchsticks

9.85 ml ground allspice

0.25 ml dried chili pepper flakes

9.85 ml finely grated lemon zest

700 g demerara sugar

9.85 ml salt

800 ml red wine vinegar

9.85 ml fresh ground black pepper
Directions
Combine all the ingredients in a large saucepan. Bring to the boil, reduce the heat, and simmer, covered, for 30 minutes.

Uncover the pan and continue simmering for about an hour and a half, stirring often, until the chutney is reduced, thick and richly flavoured. If the chutney becomes too dry, add a splash of water. Taste and correct the seasoning, adding brown sugar, vinegar, or chilli flakes as needed. (Sometimes, depending on the water in the figs, this chutney can take over 2 hours to reduce.).

Spoon into sterilised jars and seal. The chutney will keep for up to 8 or 9 months, unopened, in a cool, dark place. Once opened, refrigerate and use within 4 weeks.