Golden Saffron and Cardamom Spiced Chicken & Rice Pilau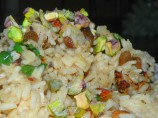 Photo by Baby Kato
Prep Time: 15 mins
Total Time: 45 mins
Servings: 6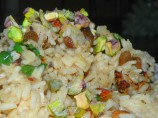 Photo by Baby Kato
About This Recipe
"Richly fragrant golden saffron rice pilaf (pilau) that's delicately scented with rose water & studded with pistachios, almonds, and sultanas, combined with moist, tender chunks of chicken infused with lemon, yogurt and musky spices: this is a FABULOUS one-dish meal! Inspired by a Nigella Lawson recipe, from one of her cookbooks. Wonderful served warm, or at room temperature. Enjoy!"
Ingredients
1 1/4 lbs boneless skinless chicken breasts, cut into 1-inch chunks

1 cup whole milk yogurt

juice of half a lemon

1/4 teaspoon ground cinnamon

1 small pinch garam masala

1/2 teaspoon grated fresh ginger

1/2 teaspoon saffron thread

1 quart organic chicken stock

1 tablespoon butter

2 -3 tablespoons peanut oil

2 1/4 cups basmati rice

1/4 cup sultana ( golden raisins)

3 -4 cardamom pods, bruised

2 tablespoons rose water

1 fresh lemon, juice and zest

1/4 cup slivered almonds, toasted

1/4 cup shelled pistachio nut

1 cup fresh flat leaf parsley, chopped
Directions
Marinate the chicken in the yogurt, lemon, cinnamon, small pinch of garam masala, and grated ginger for about 1 hour. Soak the saffron threads in the chicken stock.

Shake the excess marinade off the chicken. In a large Dutch oven or Le Creuset over medium-high heat, fry the meat with a spoonful or so of oil (do this in batches so that the chicken becomes nicely golden in color). Remove chicken and browned bits to a plate, cover with aluminum foil to keep warm and set aside.

In the same pan, melt the butter with 1 tablespoon of the oil and add the rice, stirring to coat until glossy. Pour in the saffron and chicken stock, add the sultanas, cardamom pods, rose water, lemon juice and zest and bring the pan to the boil, then clamp on the lid and turn the heat down to very low. Cook for about 10-15 minutes, by which time the rice should have absorbed the liquid and be cooked through.

Add the chicken and the browned bits to the rice, stirring gently to combine.

Toast the almonds by shaking them in a dry frying pan over a medium heat until they color and begin to give off their fragrance, then add to the pilaf along with the chopped parsley. Pile everything onto a plate and add a fabulously green sprinkling of slivered or roughly chopped pistachios.