Bagel Dogs or Mini-Bagel Dogs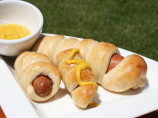 Photo by **Tinkerbell**
Prep Time: 2 hrs
Total Time: 2 hrs 8 mins
Yield: 30-40 mini dogs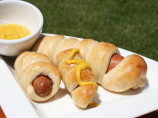 Photo by **Tinkerbell**
About This Recipe
"We were shopping last week when my husband commented again on how we can't find his favorite frozen snack anymore. We used to buy a box of bagel dogs every time we went to Costco but Costco has long since stopped carrying them. We also would buy the mini bagel dogs when we could find them. Even I would eat one once in a great while. So I suggested we just try making them ourselves. The next day I spent some time researching bagel recipes and found that others had been successful using this one for Mall Pretzels, found online at Allrecipes, to make bagel dogs. I remember making bagels years ago when my son was a toddler and I guess it must've been quite an experience, as I've not done it since. I've often thought about doing it again though and I do remember the hassle of making, boiling and then baking them. So when I saw this recipe, where the boiling is replaced by a quick dunk in a baking soda and hot water bath, I had to give it a try. The recipe as written is excellent but I've changed the instructions slightly to make the mini-dogs. We only made one full sized bagel dog, to compare, and I personally like the flavor of the hot dog better than the little smokey, but I like the size of the minis. 'Cause they're just plain fun to eat! Feel free to use any type of hot dog (all beef or turkey) that you like & just cut your dough into fewer, bigger pieces. I don't worry too much about the exact amount of dough pieces, I just make pretzels or pretzel bites out of any leftovers. :) Instructions are "by hand" but I used my Kitchenaid mixer with the dough hook attachment for the mixing and kneading with great results. Prep time includes rising time."
Ingredients
1 (1/4 ounce) package active dry yeast

2 tablespoons brown sugar

1 1/8 teaspoons salt

1 1/2 cups warm water ( 110 degrees F/45 degrees C)

3 cups all-purpose flour

1 cup bread flour

2 cups warm water ( 110 degrees F/45 degrees C)

1 (14 ounce) packages Little Smokies sausages ( rinse, drain and pat dry with paper towels)

2 tablespoons baking soda

2 tablespoons butter, melted

2 tablespoons kosher salt ( coarse grind)
Directions
In a large mixing bowl, dissolve the yeast, brown sugar and salt in the 1 1/2 cups warm water. Stir in flour, and knead dough on a floured surface until smooth and elastic, about 8 minutes. (If using a stand mixer you will probably need to add a few extra tablespoons of all-purpose flour to get a non-sticky dough.) Place in a greased bowl, and turn to coat the surface. Cover, and let rise for one hour.

Combine 2 cups warm water and baking soda in an 8 inch square pan.

After dough has risen, divide in half and put one ball back in the bowl and cover again. Gently roll and stretch the second half into a log about 16 inches long and cut into 16-20 pieces. Roll each piece into a 7 inch rope, then starting at one end of the little smokie begin wrapping the dough around in a spiral, ending at the other end. Crimp the end or push it under the last wrap if needed to secure.

Dip it into the baking soda and water solution. Place on parchment covered cookie sheets, loosely cover with foil and let rise 15 to 20 minutes. Repeat all with second half of dough.

Bake at 450 degrees F (230 degrees C) for 8 to 10 minutes, or until golden brown. Brush with melted butter, and sprinkle with coarse salt.

Repeat with remaining dough. Feel free to experiment with different sizes of dough you use for wrapping, especially if you choose to make the full-sized dogs. I ended up liking the thicker wraps best because the dough stayed soft and puffy instead of getting hard and crunchy on the outside. Any leftover dough can be formed into pretzels, twisted into pretzel sticks or I even tried just cutting them into bite-sized bits that were great for toddler snacks.

Serve with cheese sauce, ketchup, mustard, BBQ or horseradish sauce for dipping.

Yield depends on how many Little Smokies or hot dogs you're using (how many minis to a package actually varies). One full recipe though will make a nice addition to your appetizer tray.