Musakhan (Baked Chicken over Bread)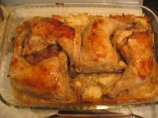 Photo by sarsalam
Prep Time: 15 mins
Total Time: 1 hr 25 mins
Servings: 4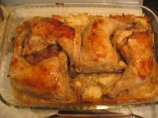 Photo by sarsalam
About This Recipe
"This is another delicious recipe by Paula Wolfert."
Ingredients
Marinade

1 1/2 tablespoons ground sumac

1/2 teaspoon salt

1/4 teaspoon black pepper

1/8 teaspoon ground nutmeg

1/8 teaspoon ground cinnamon

1 lemon, juice of

Remaining Ingredients

1 frying chicken, quartered

1 large red onion, peeled and thinly sliced

2 tablespoons olive oil

1 cup chicken stock

1/2 lb arabic bread or 1/2 lb pita bread, torn into pieces

1/4 cup pine nuts, toasted (optional)
Directions
Rinse the chicken pieces and pat dry. Trim off excess fat.

Combine the spices for the marinade. Set aside 2 teaspoons and mix the rest with the lemon juice. Rub into the chicken and marinate in the refrigerator for up to 1 day.

Preheat the oven to 400 degrees. Set the chicken out of the fridge & let it come to room temperature.

Place the onions in a large skillet along with 1 1/2 tablespoons of the olive oil, 1/4 cup of chicken stock, reserved spices. Cover and cook on low for 20 minutes.

Place the chicken, upside down, on a nonstick baking pan. Spread the onions over the chicken; cover with foil and bake 30 minutes.

Lightly brush a large ovenproof dish with the remaining oil. Scatter the torn bread along the bottom. Sprinkle the remaining chicken stock over the bread.

Carefully flip the chicken & onion onto the bread so that it is right side up. Return to the oven and bake 20 minutes,uncovered, until tender and the skin is crispy brown. Top with the pine nuts, if using.