Ayam Bali (Balinese Chicken)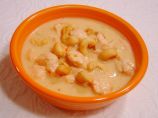 Photo by Sue Lau
Prep Time: 5 mins
Total Time: 30 mins
Servings: 4-6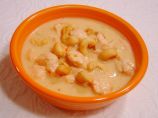 Photo by Sue Lau
About This Recipe
"Adopted recipe, not yet tried by me."
Ingredients
1 onion, coarsely chopped

2 garlic cloves ( I'd triple this, at least!)

1 -3 hot red chili pepper, coarsely chopped

1/4 cup toasted cashew nuts

2 tablespoons lemon juice

1 tablespoon soy sauce

2 teaspoons palm sugar or 2 teaspoons light brown sugar

1 teaspoon chopped fresh ginger

1 tablespoon peanut oil

2 lbs boneless skinless chicken thighs or 2 lbs boneless skinless chicken breasts, cut into 1 inch or 2 lbs coconut milk

additional toasted cashew nuts ( to garnish)
Directions
Combine the onion, garlic, chili peppers, cashew nuts, lemon juice,soy sauce, sugar, and ginger in an electric blender or food processor and blend until it forms a smooth paste.

Heat the oil in a large skillet over high heat and saute the chicken until golden brown, 2 to 3 minutes.

Add the blended mixture and cook uncovered for 2 to 3 minutes, stirring constantly.

Add the coconut milk, reduce the heat to low and simmer uncovered, stirring occasionally, until the chicken is tender and the sauce has thickened, about 10 to 15 minutes.

Garnish with toasted cashews.