Quick and Easy Spaghetti with Meat Sauce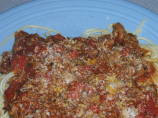 Photo by teresas
Prep Time: 10 mins
Total Time: 45 mins
Servings: 4-6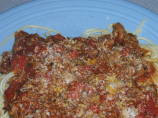 Photo by teresas
About This Recipe
"Magnifico! Classic spaghetti with meat sauce ready in about 45 minutes! MMMMMMMM"
Ingredients
1 (32 ounce) cans tomato sauce

1 (15 ounce) cans chopped tomatoes

1 large onion, chopped

3 cloves garlic, mashed

1 red pepper, chopped

1/2 green pepper, chopped

1 lb ground beef or 1 lb chicken

1/4 cup chopped parsley

1 tablespoon dried basil

1 1/2 tablespoons oregano

3/4 teaspoon thyme

1 beef double bouillon cubes ( Knorr)

salt and pepper

1 teaspoon sugar

1 tablespoon olive oil

1/2 cup red wine (optional)

1 lb spaghetti noodles, cooked according to package directions
Directions
Heat olive oil in a shallow soup pot.

Sauteé garlic until golden, then add onions and peppers.

Sauteé until onions are starting to become translucent, then add beef, and season with salt and pepper.

Brown until cooked through (about 10-15 minutes).

Drain grease.

Add wine (if using) and allow to cook for a couple of minutes.

Add tomato sauce, tomatoes, boullion cube, parsley, oregano, thyme and basil, salt and pepper and sugar.

Stir to combine and bring to a boil.

Boil for about 1 minute then reduce heat to med-low and simmer 20 minutes.

Serve over spaghetti, top with parmesan cheese and serve with crusty french bread.