Chipotle Carne Guisada (Beef Stew Meat Braised W/Chipotle)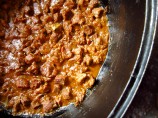 Photo by gailanng
Prep Time: 15 mins
Total Time: 2 hrs 15 mins
Servings: 4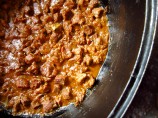 Photo by gailanng
About This Recipe
"Tender and stick to your ribs meal. The Goya Sazon is in most food stores in the Mexican isle next to the powder spices in a small yellow/orange box but you can most certainly find it in Mexican specialty stores."
Ingredients
1 cup tomatoes, chopped

1 1/4 cups sliced onions

1/2 chopped green bell pepper

3 -4 sprigs fresh cilantro

1/4 cup cooking oil

2 -2 1/2 lbs beef, meat stew ( cut small)

1 tablespoon cumin

1 teaspoon black pepper

1 teaspoon salt

1 tablespoon bouillon, powder tomatoe and chicken flavor ( preffer Knorr)

7 ounces chipotle chiles in adobo ( 1 table spoon of the sauce is needed only)

1 chipotle pepper ( also from that same 7 oz. can)

1 packet sazon goya culantro con achiote

3 -4 cups water
Directions
Season the beef stew meat with the cumin, salt and pepper. Set aside.

In a large frying pan, heat oil and add the onions, bell pepper and tomatoes on medium high heat. Saute for about 5-7 mins or until translucent. Add the seasoned meat and brown (on High heat) for about 7-10 minutes.

Add 2 cups of hot water to the pan. Add the bullion, chipotle sauce/pepper Sazon Goya and stir.

Cover and cook on medium high heat for about 45 mins or until most of the liquid is absorbed then uncover and add 1 more cup of water. Cover and simmer for another 30 mins or until liquid is almost absorbed. Uncover and add another 1 cup of water and cilantro. Cover and simmer for 20-30 mins more. Turn heat off and let stand, covered, for another 10-15 mins for liquid to thicken. Serve with rice.