Veggie Fried Rice (Vegan)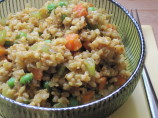 Photo by magpie diner
Prep Time: 45 mins
Total Time: 1 hr
Servings: 6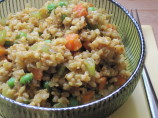 Photo by magpie diner
About This Recipe
"This fits the bill when I'm craving Chinese take-out minus the MSG. The TVP makes a great substitute for egg and boosts the protein content without adding cholesterol. This is inspired by a recipe I found here: http://ericglover.com/Vegetarian_Vegan_Fried_Rice_Recipe.html. Prep time is for cooking rice while chopping veggies. Serves about 4 as an entree or 6 as a side."
Ingredients
3 cups cooked brown rice

4 garlic cloves, chopped

1 medium onion, chopped

3 carrots, chopped

2 stalks celery, chopped

8 button mushrooms, chopped

1/2 cup textured vegetable protein ( dry)

1/2 cup water

3 tablespoons low sodium soy sauce

5 tablespoons extra virgin olive oil or 5 tablespoons canola oil

1/2 teaspoon sage ( fresh or dried)

1/2 teaspoon fresh thyme

1/4 teaspoon turmeric

1/8 teaspoon cayenne (optional)

1/4 teaspoon black pepper

1/4 teaspoon ginger powder

1 cup edamame (frozen, shelled) or 1 cup frozen peas
Directions
Be sure that the rice is cooked and the veggies are chopped before you begin.

Mix TVP, water, sage, and 1 tablespoon soy sauce. Set aside for at least 5 minutes or until the water is absorbed.

Heat 4 tablespoons of oil over medium heat in wok or very large skillet. Add garlic, onions, carrots, and celery. Sautee for a couple of minutes, then add mushrooms and 2 tablespoons soy sauce, and cook a couple more minutes until onion starts to turn translucent. Do not cook the vegetables quite all the way at this point.

Stir in TVP, then move vegetables to the perimeter of the wok. Add rice to center of wok, then stir in remaining oil and soy sauce (1 tablespoon each). Add the remaining spices. Fry the rice, turning occasionally with a rubber spatula, taking care not to burn it or the veggies. You can add a little water if necessary.

Stir in edamame or peas. Turn off the heat and stir until the edamame is heated.