Shrimp With Tomatoes, Olives and Basil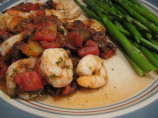 Photo by Papa D 1946-2012
Prep Time: 20 mins
Total Time: 20 mins
Servings: 4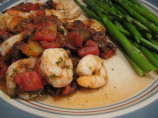 Photo by Papa D 1946-2012
About This Recipe
"This simple main course can be ready in about 20 minutes."
Ingredients
1 tablespoon olive oil

1 1/2 lbs peeled shrimp

1/2 teaspoon coarse salt, divided

1 lb tomatoes, chopped into 1/2-inch pieces ( about 2 cups chopped)

1/4 cup white wine ( water or vegetable stock may be substituted)

1/3 cup pitted kalamata olive, coarsely chopped

1/3 cup parsley, chopped

1/3 cup fresh basil, chopped
Directions
Heat the oil in a large, nonstick skillet set over medium-high heat. Add the shrimp in a single layer, and sprinkle with 1/4 teaspoon of the salt. Cook 2 minutes on each side, or until just cooked through and no longer translucent in the center. Transfer to a plate.

2. Add the tomato, wine and remaining 1/4 teaspoons salt to the skillet, and cook, stirring occasionally, 4 minutes, until the tomato is softened and the liquid thickens. Stir in the olives and parsley; cook 1 minute, and stir in the shrimp and basil. Remove from heat.