Ring of Fire Chocolate-Chipotle-Chocolate Chip Cookies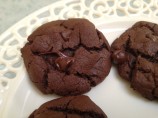 Photo by Marysdottir
Prep Time: 15 mins
Total Time: 23 mins
Serves: 48, Yield: 4 dozen cookies or more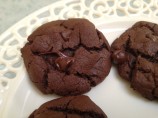 Photo by Marysdottir
About This Recipe
"This amazing recipe comes from the foodie blog "Dirty Sugar Cookies" by a very funny writer named Ayun Halliday. Her recipes are always yummy and the text that accompanies them often makes me laugh out loud. I'm posting this here because I'm terrified she might close/end/cancel her blog and then I will have lost this recipe. The cookies are softish, lumpy, crisp around the edges, very dark and chocolaty with a really nice bite from the chipotle powder. They are from the Dec 21/06 posting which you can read here http://dirtysugarcookies.blogspot.com/2006/12/ring-of-fire-dirty-chocolate-chipotle.html. The recipe as she writes it is waaaaay funnier than the way I've typed it here. Either way it tastes great."
Ingredients
1 cup butter, softened

1 1/2 cups bittersweet chocolate chips, melted

2 cups brown sugar, packed

1 1/2 cups white sugar

2 teaspoons dried chipotle powder

1 cup cocoa powder

4 eggs

1 tablespoon water

1 tablespoon vanilla

4 cups flour

1 tablespoon baking soda

1 teaspoon salt

2 cups bittersweet chocolate chips ( yes, 2 more cups!)

1/2 teaspoon dried chipotle powder ( optional, yes, another 1/2 tsp)
Directions
In a very large bowl, cream the butter and add the melted chocolate. Mix well.

Add the sugars, the 2 tsp chipotle powder and the cocoa. Mix again.

Stir in the eggs, water and vanilla until combined.

Mix together the flour, soda and salt and then stir it into the butter mixture, combining well.

Stir in chocolate chips.

Sprinkle with the other 1/2 tsp of chipotle powder if you like it spicy.

Chill the dough for a while, say an hour (I've skipped that part - didn't seem to matter unless it was a very hot day).

Form into 1-2 teaspoon sized balls and place on parchment lined cookie sheets.

Bake at 350F for 8 or 9 minutes. They will be goopy with leaking melted chocolate but with a slight crust.

Let cool a minute or two before removing to racks to cool completely.