Dulce De Leche Banana Cream Pie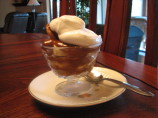 Photo by Galley Wench
Prep Time: 20 mins
Total Time: 2 hrs 50 mins
Serves: 8, Yield: 1 pie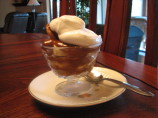 Photo by Galley Wench
About This Recipe
"I am crazy about bananas! It is my favorite fruit for desserts, for snacks, for salads -- mmmm love em! This is a five ingredient recipe from All You Magazine and I don't want to lose it! ***Please note, this recipe is a little labor intensive - cooling time is not listed but pie should be refrigerated at least 2 hours. ***"
Ingredients
2 (14 ounce) cans sweetened condensed milk

9 inches pie crusts

3 medium bananas ( 21 oz. total, with skin on)

1 cup heavy cream

3 tablespoons sour cream
Directions
Pour condensed milk into a large, heatproof bowl and set over a pot of simmering water to make dulce de leche. Cook, checking water level and adding water as necessary. Stir milk occasionally and cook until it is very thick and golden brown, about 2 1/2 hours.

Bake crust according to package directions. Cool on a wire rack.

Slice 2 bananas. Spread half of warm dulce de leche in crust; top with sliced bananas. Spread remaining dulce de leche over bananas. Chill until cold, at least 2 hours.

Just before serving, combine heavy cream and sour cream in a bowl. Whip, using a mixer on high speed, until soft peaks form. Spread over pie. Slice remaining banana and use to garnish pie. Cut pie into wedges and serve.