6 Layer Dreamy Chocolate Mousse Cake- Paula Deen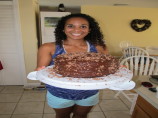 Photo by osanmike
Prep Time: 1 hr
Total Time: 1 hr 23 mins
Serves: 16, Yield: 16 pieces of cake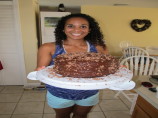 Photo by osanmike
About This Recipe
"I made this for a couple of birthday parties-- amazing! :)"
Ingredients
2 cups all-purpose flour

2 cups sugar

3/4 cup unsweetened cocoa powder

1 1/2 teaspoons baking powder

1 1/2 teaspoons baking soda

1 cup milk

1 cup strong brewed coffee

3/4 cup vegetable oil

2 large eggs

dreamy chocolate mousse mix ( Makes about 4 1/2 cups)

1 (1/4 ounce) envelope unflavored gelatin

3 tablespoons cold water

1/4 cup boiling water

1 cup sugar

1/2 cup unsweetened cocoa powder

3 cups heavy whipping cream

chocolate fudge frosting ( Makes about 3 cups)

1 cup sugar

1 cup heavy whipping cream

5 (1 ounce) unsweetened chocolate squares

10 tablespoons butter

1 cup confectioners' sugar

Garnish
Directions
Preheat oven to 350°. Grease and flour 3 (9-inch) square or round cake pans. In a large bowl, combine flour, sugar, cocoa, baking powder, baking soda, and salt. Add mik, coffee, oil, and eggs. Beat at medium speed with an electric mixer until smooth.

Pour evenly into prepared pans and bake for 23 to 25 minutes, or until a wooden pick inserted in center comes out clean. Let cool in pans for 10 minutes, Remove from pans, and let cool completely on wire racks.

Using a serrated knife, cut cake layers in half horizontally to make 6 layers. Place 1 layer, cut side up, on a cake plate, spread with one-fifth of Dreamy Chocolate Mousse. Repeat procedure with remaining cake layers and mousse. Freeze cake for 1 hour. Spread Chocolate Fudge Frosting evenly over top and sides of cake. Garnish sides of cake with grated chocolate. Garnish top of cake with chocolate curls if desired.

Mousse:.

In a small bowl, soften gelatin in 3 tablespoons cold water. Let stand for 2 minutes. Add boiling water, stirring until gelatin dissolves; set aside.

In a small bowl, combine sugar and cocoa powder.

In a medium bowl, beat cream at medium speed with an electric mixer until foamy. Gradually add sugar mixture, beating until stiff peaks form. Stir in gelatin mixture. Cover and chill for 4 hours.

Chocolate Fudge Frosting

In a medium saucepan, combine sugar and cream. Bring to a boil over medium-high heat; reduce heat, and simmer for 6 minutes, stirring frequently. Remove from heat; add chocolate and butter, stirring until melted and smooth. Let cool for 10 minutes. Whisk in confectioner's sugar. Let mixture cool until it reaches a spreadable consistency.