Avgolemono -- Egg-Lemon Soup (Greece)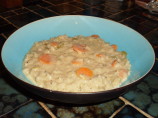 Photo by breezermom
Prep Time: 10 mins
Total Time: 35 mins
Servings: 4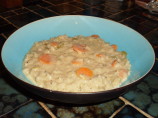 Photo by breezermom
About This Recipe
"This recipe comes from the 2005 cookbook, The Best Recipes in the World."
Ingredients
5 cups vegetable stock

1/2 cup long-grain rice ( or orzo)

1 carrot, thinly sliced

1 celery rib, minced

1 dash salt, to taste

1 dash pepper, to taste

1 cup tomatoes, seeded, chopped (optional)

2 eggs

1 teaspoon lemon zest, minced

3 tablespoons fresh lemon juice ( more or less)
Directions
Put the stock in a large, deep saucepan & turn heat to medium-high, then just barely bring it to slight boil, before turning the heat down to medium, so that it bubbles a bit.

Stir in the rice, carrot & celery & cook, stirring occasionally, until the veggies are all tender, about 20 minutes.

Season with salt & pepper & then, if you're using it, add the tomato before turning the heat down to low.

In a small bowl, use a whisk to beat the eggs with the lemon zest & juice, & then, STILL BEATING, slowly add 1/2 cup of the hot stock to the egg mixture. Continue beating while adding another cup of the stock.

Pour this mixture back into the soup & reheat, BUT UNDER NO CIRCUMSTANCES ALLOW THE MIXTURE TO BOIL OR THE EGGS WILL SCRAMBLE!

Taste & add salt, pepper or lemon juice as necessary, before serving.