Homemade Cream of Mushroom Soup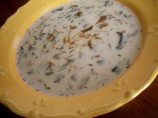 Photo by *Parsley*
Prep Time: 10 mins
Total Time: 35 mins
Serves: 4, Yield: 4 1 cup servings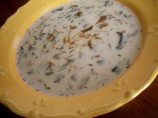 Photo by *Parsley*
About This Recipe
"My mother makes this soup all without measurements. The first time I tried this soup my knees went weak. Nothing beats the aromatic scent of the fresh thyme which always reminds me of cool nights in the fall when soup is just the right thing to warm your bones. I will try to put in, as accurate as possible measurements, but descriptives will be easier for me."
Ingredients
2 large portabella mushrooms

113.39 g white mushrooms ( approx. 6 med. size)

236.59 ml vidalia onion ( spanish or cooking onion is fine also)

473.18 ml chicken broth ( approx)

236.59 ml half-and-half cream ( approx)

59.16 ml butter, margarine or 59.16 ml oil

59.16 ml flour

4.92 ml dried thyme

4.92 ml salt ( to taste)

4.92 ml pepper ( to taste)

0.25 ml cayenne pepper

29.58 ml soya sauce
Directions
Slice all the mushrooms and cut up slices into small pieces.

Chop onion.

On medium heat, melt butter (I prefer margarine), saute onion until transparent.

Add mushrooms, saute until soft.

Add in thyme, salt, pepper and cayenne (optional).

Add flour to mushroom mixture to create roue, stir in well, texture should be pasty but not gluey.

Add in chicken broth till covered but enough that it's not watery but still has a thickness to the broth, stir while pouring to give proper consistency.

Add in cream, and for a lighter version substitute with milk. Bring to a quick boil then reduce to simmer until thickened. Adjust seasoning to taste if necessary. Served great with a nice baguette for dunking! Enjoy!

Add in soya sauce, it nicely balances out the colour and flavour.