Soup.... Sauerkraut Soup and Vegetable Soup Combo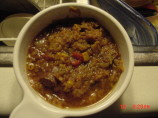 Photo by Chef Mit That's Tim
Prep Time: 15 mins
Total Time: 6 hrs 15 mins
Servings: 8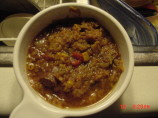 Photo by Chef Mit That's Tim
About This Recipe
"I had some sauerkraut on hand (usually have a case or less in the freezer) wanted to make a soup for a German party that I was invited too! I just made this from scratch and it is way beyond my expectations, the way all the flavors blended together.I made this in the crock pot a day in advance and you will find you have everything in cub board!"
Ingredients
2 quarts tomato juice

1 quart whole roma tomato

15 1/4 ounces canned corn

15 1/4 ounces green beans

1 large onion, diced

1 (2 lb) bags sauerkraut

2 lbs smoked sausage or 2 lbs smoked kielbasa

4 garlic cloves, minced

1/2 teaspoon caraway seed

1/2 teaspoon salt

1 teaspoon pepper

2 tablespoons brown sugar

1 teaspoon liquid smoke
Directions
Slice the whole Roma tomatoes into small pieces, about 1 inch pieces.

Make sure you slice the sausage into 1/2 -1 inch rounds, then slice in half and add to the crock pot. Add all other ingredients to the crock and cook on low for 6-8 hours depending how your pot cooks.

If your crock pot is high in temperature then you will only need 6 hours on low. If it one like mine that cooks cooler on low, then you will need 7-8 hours.