Karen's Smooth French Milk Mussels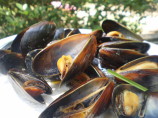 Photo by breezermom
Prep Time: 20 mins
Total Time: 40 mins
Servings: 6-10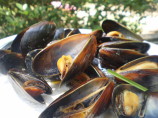 Photo by breezermom
About This Recipe
"These mussels have the taste of anise from the tarragon,chervil and further complemented with Pernod Ricard. Yes! You can use Absinthe or any liquor that has an anise flavor like Ouzo or Sambuca. Milk in the title is not only because of the cream but when you add ice cold water to the Ricard ( a pastis) it turns to a milky color. This pastis my Husband fell in Love with when we visited Paris. Made as an appetizer serving 6-10 people, be sure to have lots of crisp French bread to dip into the sauce. If you prefer to serve as a meal pour over cooked pasta with a nice side of salad. Serve with a pastis, Ricard of course! Named after a very special goddess on zaar. ;)"
Ingredients
2 tablespoons butter

2 tablespoons olive oil

1 large onion, diced

4 garlic cloves, minced

1/4 cup chopped fresh French tarragon

1/8 cup chopped fresh parsley

1/8 cup chopped fresh chervil

1 cup white wine

1/4 cup licorice-flavored liquor ( We favor Pernod Ricard)

5 lbs fresh live mussels, cleaned ( Costco has wonderful one that need hardly any cleaning)

salt and pepper

red pepper flakes

1 lemon, zest

1/2 cup cream
Directions
Heat butter and oil in a very large pan over medium heat till bubbles stops. Add onions and saute for 3-5 minutes till translucent add garlic saute for 1 minute.

Mix the herbs together and divide in half.

Add wine, Pernod and 1/2 of the fresh herbs.

Raise the heat up to high and place the mussels in toss, cover and cook for 2 1/2 minutes.

Meanwhile have a even larger pan heating.

After the mussels cooked for 2 1/2 minutes flip them into the hot pot and cook for 2 1/2 minutes more.

Meanwhile place the other 1/2 of fresh herbs into a 1 cup measure with lemon zest, salt, pepper and flakes top with cream and stir.

Toss into the mussel's the remove mussels, plating them.

Cook sauce and reduce while plating the mussels.

Pour sauce over mussels and garnish with fresh tarragon and lemon halves.