Sugar 'n' Spice Pork Tenderloin from the James Beard House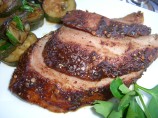 Photo by Chef*Lee
Prep Time: 12 hrs
Total Time: 12 hrs 30 mins
Serves: 4, Yield: 1 tenderloin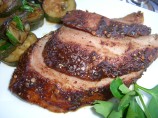 Photo by Chef*Lee
About This Recipe
"I took this from Leite's Culinaria http://www.leitesculinaria.com/recipes/jbh/sugar_pork.html (It is a part of a recipe by Neal Langermann of Georgia Brown Washington, DC.) He also includes a gravy and a succotash with the tenderloin and you can find those with the link above. Cooking time here includes brining time."
Ingredients
FOR THE BRINE

1 cup water

4 tablespoons coarse salt

2 tablespoons granulated sugar

2 tablespoons cider vinegar

FOR THE TENDERLOIN

1 1/2 lbs pork tenderloin

1/4 cup brown sugar

1 1/2 teaspoons ground cinnamon

3 whole star anise

1 tablespoon szechuan peppercorns

2 teaspoons coarse salt

1 1/2 teaspoons black pepper

1 tablespoon olive oil
Directions
To brine the pork, combine all of the ingredients for the brine in deep bowl. Trim the pork tenderloin of all silverskin and place in the bowl. Cover and refrigerate for 12 hours.

To finish the pork, combine the brown sugar, cinnamon, star anise, Szechuan peppercorns, salt, and pepper in a spice or coffee grinder and process until ground to a powder.

Preheat the own to 350°F (175°C).

Remove the pork from the brine and pat dry.

Coat the pork with the spice mixture, pressing it on to form an even crust.

Heat the olive oil in an ovenproof pan and sear the pork on all sides. Place the pan in the oven and roast pork for about 20 minutes, or until the pork has reached the desired doneness.

To serve, carve the pork into 1/2-inch-thick slices.