Fresh Oj and Strawberry Cream Cake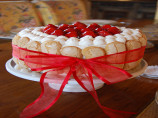 Photo by Yummy Piece of Cake
Prep Time: 30 mins
Total Time: 1 hr 10 mins
Serves: 10, Yield: 1 8" Round Cake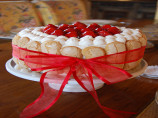 Photo by Yummy Piece of Cake
About This Recipe
"Tastes as good as sunshine!"
Ingredients
2 cups all-purpose flour, sifterd

1 1/2 cups sugar

3 teaspoons baking powder

1 teaspoon salt

1/2 cup vegetable oil

7 eggs, separated

1 tablespoon orange, zest of

3/4 cup orange juice

1/2 teaspoon cream of tartar

2 cups whipping cream

4 tablespoons powdered sugar

1/4 cup strawberry puree

1 pint fresh strawberries
Directions
Bake the Cake: Preheat oven to 325 degrees F. You will need two 8" round cake pans, line w/ parchment paper at the bottom, greased and floured.

Into a large mixing bowl, sift together flour, sugar, baking powder, and salt.

Make a wide well in the middle of the dry ingredients. Add in the following order, without mixing, the oil, egg yolks, the orange zest and orange juice. With a large wire whisk, beat until smooth. Set aside.

In the bowl of an electric mixer, beat the egg whites with the cream of tartar until they hold a stiff peak when the beaters are raised. They should not be beaten until they are dry.

In three additions, fold about ¾ of the yolk mixture into the whites. Then fold the whites into the remaining yolk mixture. Do not handle any more than necessary.

Gently pour the batter into the pans. Bake for 30 minutes at 325 degrees F, or until the top springs back when lightly pressed with a fingertip. Cool completely.

For the whipped cream: whip the cream with the powdered sugar and strawberry puree with the wire whisk until firm.

Assembly: place between cake layers fresh cut strawberries and cream. Mix fresh strawberries with apricot jam and place on top of cake.