Baraziq -- Sesame Cookies (Syria -- Middle East)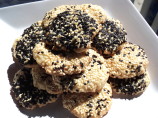 Photo by Nif
Prep Time: 15 mins
Total Time: 50 mins
Serves: 9, Yield: 18 small cookies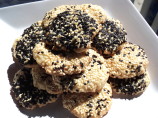 Photo by Nif
About This Recipe
"From the 2002 cookbook, Mediterranean Street Food."
Ingredients
FOR THE COOKIES

4 tablespoons granulated sugar

4 tablespoons unsalted butter, room temperature

1 medium egg

1/2 teaspoon white wine vinegar

1 cup all-purpose flour

1/8 teaspoon salt, to taste

1/3 teaspoon baking powder

FOR THE GARNISH

1 egg white, lightly beaten

1/2 cup pistachio nut, chopped

1/2 cup sesame seeds, toasted to lightly golden
Directions
FOR THE COOKIES: In a mixing bowl, combine sugar & butter & stir together with a wooden spoon until completely blended.

Add rest of the cookie ingredients & blend with your hands until there is a soft dough. (If too soft to work with immediately, refrigerate for 1 hour.).

Divide dough into 18 pieces to make small baraziq.

Preheat oven to 350 degrees F & line a large baking sheet with parchment paper.

Shape each ball of dough with your hands until you have a thin disk about 2 1/2 inches across, & place it on a large platter. Repeat with the other pieces of dough.

FOR THE GARNISH: Put the egg white in a saucer, the pistachio nuts in another saucer & the sesame seeds in a third saucer.

Dip each of the shaped disks in the egg white, then in the pistachios ON ONE SIDE ONLY & then in the toasted sesame seeds on the other side, making sure you coat them well with the seeds.

Arrange the coated disks, pistachio side down, on the prepared baking sheet.

Bake 25-35 minutes or until cookies are golden brown, then let cool before serving. Keep uneaten cookies up to 2 weeks in a tightly sealed container.