Salada De Arroz (Rice Salad) - Portuguese Brazil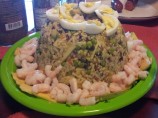 Photo by Chef #1423389
Prep Time: 30 mins
Total Time: 30 mins
Servings: 4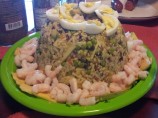 Photo by Chef #1423389
About This Recipe
"This is from "Cuisines of Portuguese Encounters", where the author put together the dishes she encountered while going through the Portugal and its former colonies. I haven't made it yet. Times don't include the 2-hour chillng time, nor the time to precook a few ingredients."
Ingredients
2 cups cooked rice ( cold)

1 granny smith apple ( peeled, cored, and julienned)

1/2 avocado ( peeled and sliced)

1 tablespoon chopped pimiento

1 cup cooked peas

1 tablespoon lemon juice

1 tablespoon white vinegar

2 tablespoons olive oil

1 teaspoon mustard

1 teaspoon salt

1/4 teaspoon black pepper

1/2 head lettuce, shredded

3 eggs, hard-boiled

1/2 lb shrimp, cooked
Directions
Place rice in large bowl. Add apple, avocado, pimiento and peas.

In a smaller bowl, mix lemon jjuice, vinegar, olive oil, mustard, salt and pepper. Add it to the rice mixture. Mix well. Pack into a mold. Chill at least 2 hours.

Arrange lettuce on a platter, and unmold rice on top. Decorate it with the sliced hard-boiled eggs and shrimp.