3-Ingredient Pan-Simmered Italian Boneless Pork Chops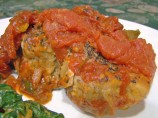 Photo by Derf
Prep Time: 5 mins
Total Time: 3 hrs 5 mins
Servings: 4-6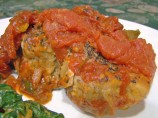 Photo by Derf
About This Recipe
"You will NOT believe how good these pork chops are, after seeing how EASY they are to make. These are so simple, yet worthy of serving to company. I get rave reviews every time I serve them and I'm always asked for the recipe, yet almost embarrased to give it! The trick is to cook slowly with enough heat, but not so much that the chops are boiling to get tough and dry. And the cooking time is very flexible...you can simmer these for up to 6 hours if you'd like. (By the way, I consider the salt and pepper "freebies" in the ingredient count!)"
Ingredients
4 -6 boneless center cut loin pork chops ( 1/2-3/4-inch thick)

1 (14 1/2 ounce) cans del monte stewed tomatoes, Italian Recipe ( with basil, garlic and oregano)

1 tablespoon olive oil

salt and pepper
Directions
Heat oil over medium-high heat in large frying pan that has a lid.

Season pork chops with salt and pepper.

Sear chops in pan till lightly browned, about 1-2 minutes per side.

REMOVE frying pan from burner (so you don't burn yourself on next step).

Slowly pour can of stewed tomatoes over chops. Distribute tomatoes so some are under chops and the balance is evenly covering the tops of the pork chops.

Cover pan and return to burner. Reduce heat to low and simmer (do not boil) for 2-3 hours, or until chops are fork tender. You can leave the chops on low for even longer, if you prefer - adjust to your schedule.

Uncover and let simmer for another hour (or longer) until some of the water in the pan evaporates.

Serve with side of mashed potatoes (the pan juice goes well with them!) or over pasta of your choice with some parmesan cheese.